Vehicle Wraps
Welcome to Armour Wraps in Fort Worth, TX! We are the #1 place for custom vehicle wraps. There are many reasons that you might be in the market for a vehicle wrap: advertising, change the colors, add stripes, enhance the color, the possibilities are endless. If your car's surface is no longer smooth, our vehicle wraps can help! Our car wrap experts can transform your personal or commercial vehicle.
Personal Vehicle Wraps:
Over time our personal vehicles fade and take a beating from the hot Texas sun and the unpredictable weather. Armour wraps can help give your car a face lift! We can restore your cars colors  with a wrap or give your vehicle a whole new color. We can give your truck a custom look with our unique camo wrap or your car elegant look with a satin wrap. If you have a muscle car or a race car we can add racing stripes to give it a classic sporty look that people will take notice of. Click Here to see some of our finished projects.
Commercial Vehicle Wraps:
When you put your business name on your car, you are instantly creating a mobile billboard! Our advertisement wraps put your business front and center for thousands to see. 30% of mobile outdoor viewers indicate they base buying decisions on ads they see. Our commercial vehicle wraps have the potential to reach commuters on highways, city streets, and parking lots.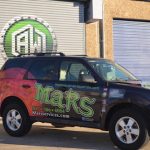 We also pride ourselves in custom wrapped coolers and tumblers! Do you want a certain color or a wrap of your favorite team? Armour Wraps can help you with that. Click Here to see what we can do.
Armour Wraps wants to help you with your custom vehicle wraps today! We're located in the DFW Metroplex in North Fort Worth! At Armour Wraps, our expert staff can take care of any design; from customizing an entire fleet of vehicles to adding detail to your favorite tumbler. Check out all our available services below! Need a quote? Contact us today to get pricing details and information regarding your next custom wrap!