Sign Shop
If you're wanting a custom-made sign; you've come to the right place. Armour Wraps in Fort Worth Tx is a one of a kind sign shop that creates custom made signs that will get lots of looks. If you're running a business, then you know how important it is to have a bright high quality and well placed sign. Our custom-made signs can act as your year-round sales person that you down have to pay a salary! We can make signs that can withstand the elements outdoors and still look great for years to come. Armour Wraps can also help you with indoor wraps as well as wall murals.
Wall Murals
Armour Wraps is the leader in this area when it comes to wall wraps! A wall wrap does many things:
Gives your business a clean look

Advertises your services

Adds professionalism

Promotes Office or team moral
Armour Wraps will handle every aspect of the process; with your help and ideas we will design the wall wrap. We want to turn your ideas into a reality! Then we will print and professionally install the wall wrap. All you have to do is sit back and watch your business grow!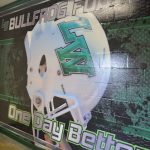 Armour wraps has a very talented team of well trained and experienced experts who will work with you to determine the type of sign or wrap that would be perfect for your business and even design it for you. At Armour Wraps, we take great pride in providing high quality signs and other services to our customers. 
If you are interested in acquiring a business or corporate signage in Fort Worth Texas, Armour Wraps are the people to go to if you need quality and low-cost interior or exterior signs. To get a free no-obligation quote or more information, please call us today at 817-529-5598 or write us an email at armourwraps@gmail.com and we will be happy to be of service.